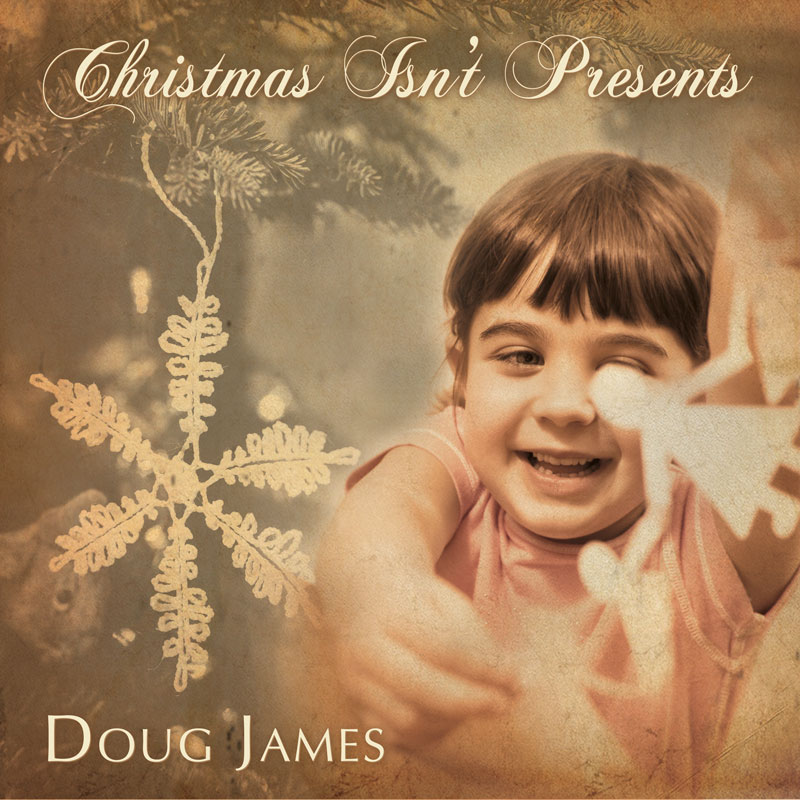 Released: 2022 | Digital Single
Christmas Isn't Presents (The Best Gift of All)" is the new release by Doug James. This was recently nominated for the Holiday category in the prestigious 2022 Hollywood Music in Media Awards (HMMA).
The song has been released in Dolby Atmos / Spatial Audio* formats, which provide an immersive experience for the listener, as well as traditional stereo audio.
Click on the play buttons to listen, or choose your preferred music service below!
*Spatial Audio files can be listened to the same way as a standard stereo file. For the best immersive experience, listen on headphones or earbuds. Dolby Atmos / Spatial Audio files are a "one size fits all" type of audio file that adapts to whatever playback system you are listening on—mobile with headphones or earbuds, stereo speakers or on your home surround system.
Listen or Purchase on Your Preferred Music Service:
Produced by:
Jeff Silverman, Keith Mack and Doug James
Executive Producers:
Kenny & Ann Simpler
Will & Bettye James
Special thanks to:
Jeff & Ida Rowe
Marty Burns-Wolfe 
Nancy Stenger Joseph
and Nicole Barka-James
Mixed and Mastered in Dolby Atmos/Spatial Audio by: Jeff Silverman at Palette MSP, Nashville TN.
Engineers: Keith Mack, Eamon Loftus, John Albani, Lindsey Tanner, Jeff Silverman & Doug James
Christmas Isn't Presents (The Best Gift of All)
Chip Orton & Doug James
Sinjin Music, BMI / Doug James Music, BMI
When I was younger, and my baby girl was seven,
She handed me a note she wrote to Santa Claus.
She said, "Daddy, can you send this to the North Pole for me?
It's important that it gets there in time because…
I want a dolly, a pair of skates and a trolley…
But as she spoke, this awful feelin' came over me.
Ya see, I was barely able to put food on our table,
And I knew Christmas couldn't be what she wanted it to be…
So, I told her… "Honey,…
Christmas Isn't Presents,
Or tinsel on a tree,
Or decorations hangin' in the hall.
Christmas Isn't Presents –
What we really need to see,
Is the love we give to one another…
Well, that's the best gift of all."
When I finished speakin', I didn't really know
If she could understand what it broke my heart to say.
But she asked me for her letter, and she took it from my hand,
And said, "Aw, I didn't need that dolly anyway."
Well, things got no better, and when that Christmas mornin' came,
I braced myself for the tears I knew I'd see.
But when she opened up that paper doll, that was all I could afford –
I was the one who cried when my baby smiled, and said to me…
She said, "Daddy,…
Christmas Isn't Presents,
Or tinsel on a tree,
Or decorations hangin' in the hall.
Christmas Isn't Presents –
What we really need to see,
Is the love we give to one another…
Well, that's the best gift of all.
Yeah, the love we give to one another…
That's the best gift of all."
Doug James – Lead and Background Vocals, Piano and Toy Piano
Keith Mack – Acoustic Guitars, Bass, Bouzouki, Mandolin and Background Vocals
Don Hart – String Arrangement
Dave Davidson and the Nashville Recording Orchestra
Kim Fleming – Background Vocals
Armand Hutton – Background Vocals
Julia Idoni – Vocals
Sammy Merendino – drums
Nate Grower – Solo Violin
Debra Silverman, DLS Graphics- Artwork